Due to the fact that the forecast is pretty straight forward for the next few days (I think WCSH/WLBZ is starting to worry they won't get their money's worth out of me :-) ), I'm already looking ahead to a potential situation next week.
The main gist is that Maine is due for a "King Tide" on Tuesday which could correspond with a coastal low pressure system, causing significant flooding.
First, What IS a King Tide
One thing we've all learned from Game of Thrones: Everyone wants to be called King...but few can be.
(Each Post-It note represents a character being killed off. Seriously)
"King Tide" is a bit of a slang term to be honest but it is supposed to mean the highest astronomical tide in a given year. There have been some liberties taken over the past few years, however, and now it is accepted to mean the 3-4 highest astronomical tides of the year. I don't have a big problem with this loosening of the definition because in some cases we are talking about a 1-2" difference in tide heights, which doesn't diminish the overall impact at all.
These astronomically high tides come along with the enhanced gravitational pull of "Supermoons". Maine will experience one of those on Sunday night into Monday morning and it will be the closest/largest the moon has appeared since 1948.
(Here is roughly what it will look like:)
'
In the case of Maine the "King Tide" will be on Tuesday, and depending on your exact location along the coastline it will vary in height: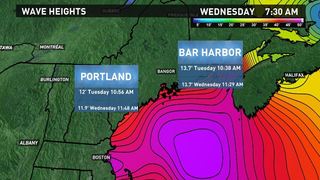 Either way that tide will put many locations over flood stage even with zero wind.
So now the question is; will there be zero wind?
Well we aren't so sure about that.
Some computer models indicate a low pressure system will churn over the Gulf of Maine on Wednesday morning which, while not King Tide, will be within inches of King Tide level. If that in fact comes to fruition we would be looking at some pretty significant coastal flooding in my opinion. I'll keep an eye on the latest models in regards to the storm since timing is everything and the east wind would be the most dangerous.
Side Note to all of this: Many experts believe the King Tide is a glimpse into our future under the global warming regime and correlated seal level rises. It should be a warning in that regard that our precious coastline will be submerged in the not so distant future. And don't anybody make this political in the comments; it's just science and I think we can all agree there's been enough politics to last us a good while.
Carson out.
https://twitter.com/KeithCarson
Copyright 2016 WCSH